A LEADER LEADS
Despite party affiliation I imagine that most people prefer to choose the 'best' candidate to be the next President. Of course the criteria for what constitutes the 'best' of anything or anyone tends to be biased. But every so often there are critical events that reflect the true character of those who react to them. In this connection one such event happened last night: the President announcing that his position on gay marriage had evolved to the point of acceptance on his part. In predictable fashion Mitt Romney assumed an opposing view.
So what does this have to do with leadership?
Leaders lead. This often means taking the initiative in choosing among alternative perspectives- often on  hot button issues- risking political back lash. It is questionable as to whether or not the President's position about the right of gays to marry is a political plus or a minus. However, coming as it did on the heels of a resounding defeat for gay marriage in North Carolina only the night before an objective observer would question the President's timing. But the President acted and acted decisively based on a reasoned position that the Constitution guarantees such a right.
If the right to bear arms is guaranteed by the constitution should it not the right to marry whomever one wishes be equally guaranteed under the bill of rights?
Segue to Mitt Romney's leadership style.
It was revealed today on Huffington Post that as a senior in a prestigious boarding school Mitt Romney flagrantly and with out remorse nor apology terrorized a gay student because he offended his aesthetic sensibilities. In other words Mitt Romney acted out his ant gay prejudice on an all too easy mark.
Thus it may be argued - Mitt Romney was young, disrespectful of differences, and apparently homophobic combined with a sense of moral superiority that violence was justified in showing such impudent non conformist a lesson he will never forget.
Ok - I buy that to some degree. But that is not the end of it. Today when asked about this incident - verified by at least 5 independent observers of this event - Mitt Romney did as follows: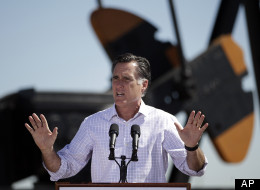 WASHINGTON -- Mitt Romney made a surprise appearance on Fox host Brian Kilmeade's radio show Thursday morning to respond to a lengthy Washington Poststory on his time as a prep-school prankster and occasional bully of closeted gay students.
"They talk about the fact that I played a lot of pranks in high school," Romney said. "And they describe some that you just say to yourself, back in high school I just did some dumb things and if anybody was hurt by that or offended by it, obviously I apologize."
"I participated in a lot of hijinks and pranks during high school and some might have gone too far and for that, I apologize," he added."
---------------------------------------------------------------------------------------
"Might of gone too far" strikes me as the understatement of the campaign. Of course he went too far. And in qualifying his degree of 'farness' he dilutes his apology to a typical non event thus pandering to his base - for a change.
Strength of character to me is a significant indicator of leadership style. In this connection - when comparing the leadership style of Mitt Romney to that of President Obamas' - the President wins hands down.